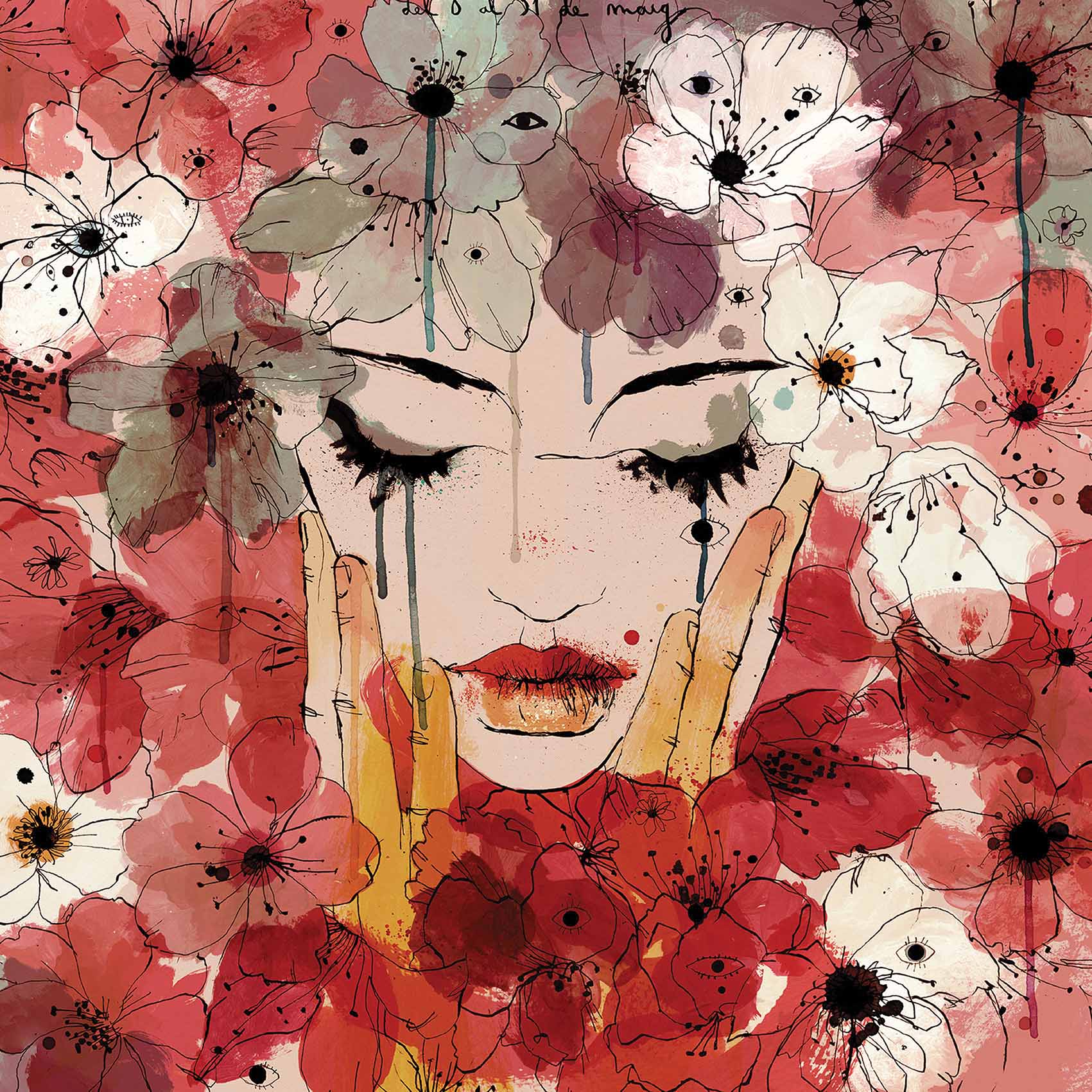 Love and Death
Conrad Roset
08/05/14. (Sala 307)
Conrad Roset nace en Terrassa hace 30 años, actualmente vive en Barcelona. Ha mostrado su obra en ciudades como Londres, Paris, San Francisco o Nueva York. Después de dos años sin exponer en la Ciudad Condal, trae a la Sala Vinçon su nueva colección "Love and Death". Una oscura reflexión sobre la belleza, la sensualidad y la muerte.
Tras la publicación de su libro recopilatorio "Musas" editado por Norma Editorial, Conrad, reflexiona y evoluciona hacia un universo más oscuro. En este nuevo mundo los detalles y los ornamentos orgánicos adquieren relevancia respecto a sus anteriores trabajos. Vemos aparecer nuevos elementos en su obra como flores, ojos, insectos, creando una atmósfera desconocida.
Tras una trayectoria figurativa, ahora opta por descomponer la imagen, brazos, piernas y rostro se deshacen para dar paso a líneas interrumpidas, manchas de color, y goteo de pintura acrílica. La tinta china predomina por encima de las otras técnicas.
Colores fuertes y sin miedo, expresivos y espontáneos se mezclan con un trazo desigual y quebrado realizado con plumilla con los que Conrad quiere transmitir una belleza rota.
Esta vez, la Sala Vinçon muestra una exclusiva colección de litografías que supone un viaje a través de la sensualidad, lo efímero y la muerte.
Biografía
Conrad Roset ha pasado la primera parte de sus 30 años en Terrassa, su ciudad natal, entre cajas de colores, rotuladores y libretas; la otra parte en Barcelona, rodeado de pinturas, moleskines, musas, lápices de colores y su gato gris. El dibujo ha sido una pasión y una constante en su vida, desde que jugaba con su hermano a dibujar todo lo que les gustaba, hasta que años más tarde se inspiró en las mujeres para crear las Musas, su colección más personal. – busco la belleza que desprende el cuerpo, me gusta dibujar la figura femenina-.
Se formó en la Escola Joso y en la facultad de Belles Arts de Barcelona. Gracias a la difusión de sus ilustraciones por internet empezó a trabajar para Zara. Allí, dice, aprendió el oficio, la regularidad, a estudiar estilos de ilustradores de referencia. Al cabo de un año se lanzó como freelance y desde entonces trabaja para diferentes marcas, agencias de publicidad y editoriales.
Ha expuesto en galerías y museos como el MOCA de Virginia, SopkeArt en San Francisco, London Milles en Londres, Tipos Infames en Madrid, Artevistas y Miscelanea en Barcelona. Además, colabora como profesor de ilustración en la Escuela de diseño BAU.
Conrad Roset neix a Terrassa fa 30 anys, actualment viu a Barcelona. Ha mostrat la seva obra en ciutats com Londres, Paris, San Francisco o Nova York. Després de dos anys sense exposar a la Ciutat Comtal, porta a la Sala Vinçon la seva nova col.lecció "Love and Death". Una obscura reflexió sobre la bellesa, la sensualitat i la mort.
Després de la publicació del seu llibre recopilatori "Musas" editat per Norma Editorial, Conrad, reflexiona i evoluciona cap a un univers més fosc. En aquest nou món els detalls i els ornaments orgànics adquireixen rellevància respecte als seus anterior treballs. Veiem aparèixer nous elements en la seva obra com flors, ulls, insectes, creant una atmosfera desconeguda.
Després d'una trajectòria figurativa, ara opta per descompondre la imatge, braços, cames i cara es desfan per donar pas a línies interrompudes, taques de color, i degoteig de pintura acrílica. La tinta xina predomina per sobre de les altres tècniques.
Colors forts i sense por, expressius i espontanis es mesclen amb un traç desigual i trencat fet amb ploma amb els quals Conrad vol transmetre una bellesa trencada.
Aquesta vegada, la Sala Vinçon mostra una exclusiva col.lecció de litografies que suposa un viatge a través de la sensualitat, l'efímer i la mort.
Biografia
Conrad Roset ha passat la primera part dels seus 30 anys a Terrassa, la ciutat on ha nascut, entre capses de colors, retoladors i llibretes.
L'altra part, a Barcelona, envoltat de pintures, moleskines, muses, llapis de colors i el seu gatet gris. El dibuix ha estat la seva passió i una constant a la seva vida, des que jugava amb el seu germà a dibuixar tot allò que els agradava, fins que anys més tard es va inspirar en les dones per a crear les Muses, la seva col·lecció més personal – busco la bellesa que desprèn el cos, m'agrada dibuixar la figura femenina.
Es va formar a l'Escola Joso i a la facultat de Belles Arts de Barcelona. Gràcies a la difusió de les seves il·lustracions per internet va començar a treballar per a Zara. Allà, diu, va aprendre l'ofici, la regularitat, a estudiar estils de referència. Després d'un any treballant per a Zara, decideix llançar-se com a freelance i des d'aleshores treballa per a diferents marques, agències de publicitat i editorials.Ha exposat a galeries i museus com el MOCA de Virginia, SopkeArt a San Francisco, London Milles a Londres, Tipos Infames a Madrid, Artevistas i Miscelanea a Barcelona. A més, col·labora com a professor d'il·lustració a l'Escola de Disseny BAU.
Conrad Roset born in Terrassa 30 years ago, currently lives in Barcelona. He has shown his work in cities like London, Paris, San Francisco and New York.
After holding no exhibithions in Barcelona for two years, he makes a come back with his new collection called "Love and Death" held at La Sala Vinçon. It's a dark reflection on beauty, sensuality and death.
Following the release of his book titled "Musas" published by Norma Editorial, Conrad reflects and evolves into a darker universe. In this new world detail and organic ornaments acquire relevance with respect to his previous work. We see new elements appear like flowers, eyes and insects that create a strange atmosphere.
After a figurative trajectory, he now chooses to decompose the image, the arms, legs and the face fall apart to give way to discontinuous lines, blotches of colour, and drops of acrylic paint. Indian ink predominates over other techniques.
Strong and fearless colours, expressive and spontaneous colour mixed with an uneven stroke and done with a fountain pen which Conrad wants to transmit a broken beauty with all form part of his work.
On this occasion, La Sala Vinçon shows an exclusive collection of lithographs that represent a journey through sensuality, the ephemeral and death.
Biography
Conrad Roset spent the first part of his 30 years in Terrassa, his native city, among boxes of crayons, felt-tip pens and notebooks; the other part in Barcelona, surrounded by paints, moleskine notebooks, muses, colored pencils, and in the company of his gray cat. Drawing has been his passion and a constant feature in his life, since he played with his brother at drawing everything they liked until, years later, he draw inspiration from women to create the Muses, his most personal collection. "I search the beauty the body exudes, I like drawing the female figure."
He received his education at the Joso School and at the Faculty of Fine Arts in Barcelona. Thanks to the spreading of his illustrations through the Internet, he started working for Zara. There, he says, he learnt about his trade, about regularity, and how to study styles of reference illustrators. A year later, he launched himself as a freelance artist, and since then he works for different brands, advertising agencies, and publishing companies.
He has exhibited his work in galleries and museums, such as the MOMA in Virginia, Spoke Art in San Francisco, London Miles in London, Tipos Infames in Madrid, and Artevistas and Miscelanea in Barcelona. Besides, he is a professor of illustration at the School of Design BAU.