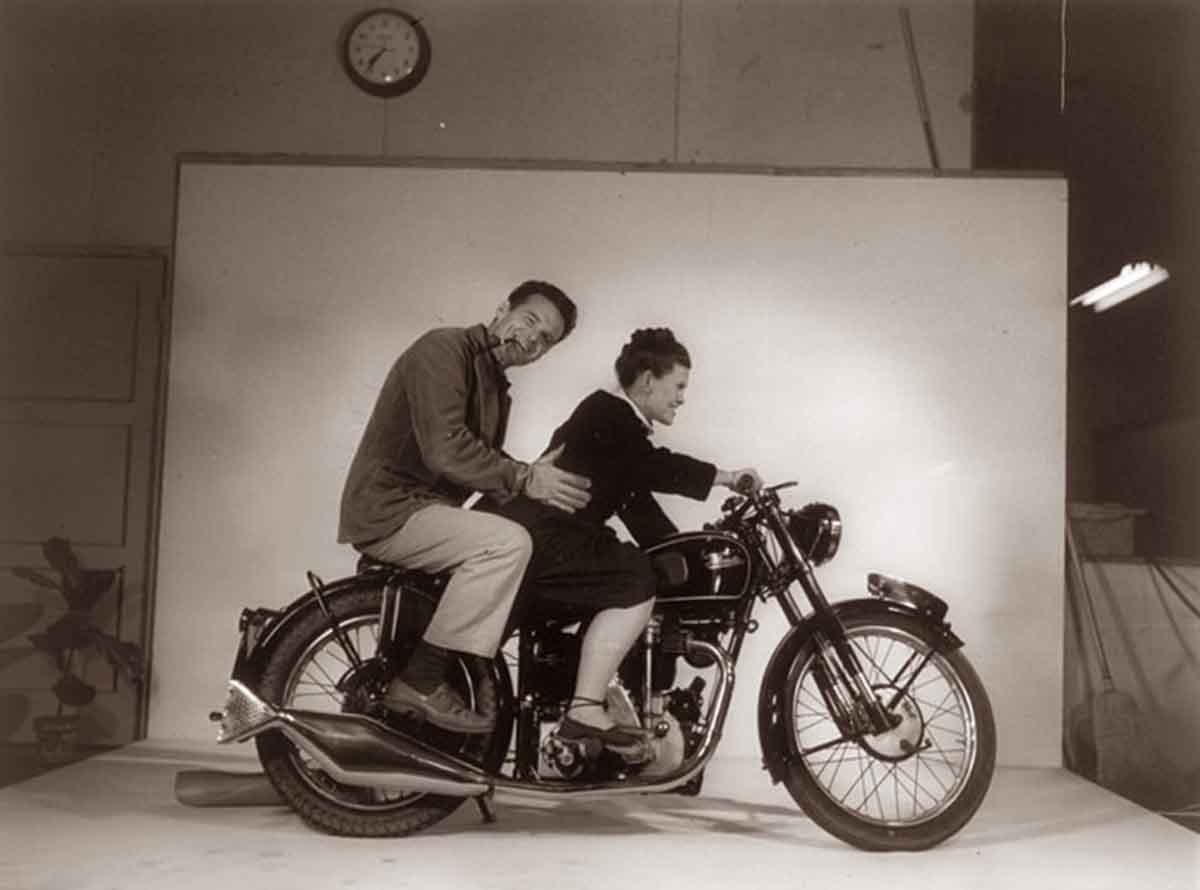 Los Muebles de Charles y Ray Eames
Vitra & Vinçon
04/06/12. (Sala 286)
Vinçon y Vitra presentamos esta exposición coincidiendo con el 100 aniversario del nacimiento de Ray Eames.
La exposición está compuesta por 7 cubos temáticos ordenados por materiales como madera contrachapada, plástico, alambre y aluminio. Los diseños se presentan con una descripción poco convencional de su construcción que permite ver todos los elementos que componen cada una de las piezas. Con estos modelos se puede comprender el complejo proceso de desarrollo que finalmente dio lugar a sus famosos muebles.
Piezas de las sillas, ilustraciones y fotografías históricas, muestran las peculiaridades constructivas de los objetos expuestos, así como el proceso de prueba y error que tuvo gran importancia para la obra de Charles y Ray Eames.
Entre las claves del éxito de los diseños de esta pareja está la mezcla de dos talentos y habilidades que se combinaban a la perfección. Ray poseía formación artística, Charles era arquitecto. Dos sensibilidades que les llevaron a una concepción del diseño de mobiliario marcada por la inteligencia constructiva, el cuidado por el detalle y el rechazo a todo lo fortuito y lo casual.
En 1957 Vitra fabricó la primera pieza, a raíz de lo cual se desarrolló una estrecha relación con los Eames y su obra que Vitra mantiene actualmente.
Charles y Ray Eames
La pareja de diseñadores estadounidenses Charles y Ray Eames fue extraordinariamente prolífica, y resulta casi imposible sobrevalorar la relevancia que ha tenido su obra para el desarrollo del diseño. Es el resultado de una fructífera colaboración entre dos personalidades cuyos talentos y habilidades se complementaban a la perfección.
La colaboración entre Charles y Ray Eames comenzó en 1940, cuando se conocieron en la Cranbrook Academie of Art, que por entonces era un importante referente del diseño americano.
Charles Eames, nacido en 1907 en St. Louis, Missouri, era arquitecto. Ray Eames, nacida en 1912 en Sacramento, California, como Bernice Alexandra Kaiser, había estudiado Arte en los años 30 con el pintor alemán Hans Hofmann en Nueva York y Provincetown.
La pareja se casó en 1941, se trasladó a Los Ángeles y abrió allí un estudio conjunto. En las casi cuatro décadas de colaboración siguientes, además de numerosos diseños de muebles que abrieron nuevos horizontes, también crearon importantes construcciones, exposiciones, películas, juguetes, trabajos gráficos, diseños textiles y un sinnúmero de fotografías.
El torrente creativo de los Eames, que ha influido de manera fundamental en nuestra concepción del diseño y en nuestra percepción sobre el papel de los diseñadores, cesó con la muerte de Charles en 1978. Ray Eames falleció diez años después. Sin embargo, su obra conjunta, que abarca también sus visiones humanistas, continúa viva y tiene hoy la misma relevancia que en el momento de su creación.
Presentem aquesta exposició coincidint amb el 100 aniversari del naixement de Ray Eames.
L'exposició es compon de 7 cubs temàtics ordenats per materials de fusta contraxapada, plàstic, filferro i alumini. Els dissenys es presenten amb una descripció poc convencional de la construcció què permet veure tots els elements que composen cada una de les peces. Amb aquests models es pot comprendre el complex procés de desenvolupament que finalment donar lloc als seus famosos mobles.
Peces de les cadires, il.lustracions i fotografies històriques, mostren les peculiaritats constructives dels objectes exposats, així com el procés de prova i errada que va tenir gran importància per a l'obra de Charles i Ray Eames.
Entre les claus de l'èxit dels dissenys d'aquest parella s'hi troba la barreja de dos talents i habilitats que combinaven a la perfecció. Ray comptava amb formació artística, Charles era arquitecte. Dues sensibilitats que els portaren a una concepció del disseny de mobiliari marcada per la intel.ligència constructiva, la cura per al detall i el rebuig a tot el fortuït i casual.
El 1957 Vitra va fabricar la primera peça, arrel d'aquest fet es va crear una estreta relació amb els Eames i la seva obra que Vitra manté actualment.
Charles y Ray Eames
La parella de dissenyadors dels Estats Units Charles i Ray Eames, va ser extraordinàriament prolífica, i resulta quasi impossible sobrevalorar la rellevància que ha tingut la seva obra per el desenvolupament del disseny. És el resultat d'una fructífera col.laboració entre dues personalitats on talent i habilitats es complementaven a la perfecció.
La col.laboració entre Charles i Ray va començar el 1940, quan es van conèixer a la Cranbrook Academie of Art, aleshores era un important referent del disseny americà.
Charles Eames, nascut el 1907 a St. Louis, Missouri, era arquitecte. Rau Eames, nascuda el 1912 a Sacramento, California, com Bernice Alexandra Kaiser, havia estudiat Art als anys 30 amb el pintor alemany Hans Hofmann a Nova York i Provincetown.
La parella es va casar el 1941, es traslladar a Los Angeles i allí conjuntament obriren un estudi. En les quasi quatre dècades de col.laboració següents, a més de nombrosos dissenys de mobles que obriren nous horitzons, també van fer importants construccions, exposicions, pel.lícules, joguines, treballs gràfics, dissenys tèxtils i infinitat de fotografies.
El torrent creatiu dels Eames, què ha influït de manera fonamental a la nostra concepció del disseny i percepció sobre el paper dels dissenyadors, es va acabar amb la mort de Charles el 1978. Ray Eames va morir deu anys després. No obstant això, l'obra conjunta que abasta també les seves visions humanistes, continua viva i avui té la mateixa rellevància què en el moment de la seva creació.
Vinçon & Vitra present this exhibition to coincide with the 100th anniversary of Ray Eames.
The exhibition is made up of 7 thematic cubes organized by materials such as plywood, plastic, wire and aluminium. The designs are presented with unconventional descriptions of its construction which lets you see the elements of each piece. You will be able to understand the complex development process which eventually led to his famous furniture.
Parts of the chair, illustrations and historical photographs show the peculiarities of the constuction of the objects on display, as well as the trial and error process that was so important for the work of Charles & Ray Eames.
Among the keys to success of the designs created by the couple is the mix of two talents and skills that are combined to perfection. Ray had artistic training, Charles was an architect. Two sensitivities that led them to a furniture design concept marked by constructive intelligence, care for detail and rejection of all that is accidental and coincidental.
In 1957 Vitra manufactured the first piece, from this point on a close relationship developed between the Eameses and their work which Vitra currently maintains.
Charles y Ray Eames
The extensive and diverse oeuvre of Charles and Ray Eames is the result of an extraordinarily productive collaboration. During the four decades of their work together, the Eameses produced not only many groundbreaking furniture designs, but also significant architectural works, exhibitions, films, graphics and an immense number of photographs. The unique historical importance of the Eameses is grounded in the quality and breadth of their work. They have had a seminal influence on our understanding of design and the role of the designer in modern society.
Charles Eames was born in St. Louis, Missouri, in the year 1907. After architectural studies in St. Louis, he took a position at the Cranbrook Academy of Art in Michigan, where he began to develop innovative furniture designs in collaboration with Eero Saarinen. Ray Eames was born in 1912 as Bernice Alexandra Kaiser in Sacramento, California. During the 1930s, she studied under the German painter Hans Hofmann in New York and Provincetown. Charles and Ray became acquainted at Cranbrook in 1940. They were married one year later and moved to Los Angeles, where they began their joint career.
Shortly after the end of World War II, the Eameses' early designs for moulded plywood furniture, which had been preceded by many years of experimentation, went into series production. During the following years they developed a wide range of revolutionary furniture designs, often using innovative materials. Their designs reflect a combination of Charles' architectural background and structural approach with Ray's artistic training and sure sense of colour, line and shape.
Charles Eames died in 1978; Ray followed him ten years later, in 1988. Yet their work, which embodies their humanist perspectives and visions, has remained permanently relevant and vital. Around the world, people continue to furnish their homes and offices with Eames designs, and to draw inspiration from their fascinating oeuvre.